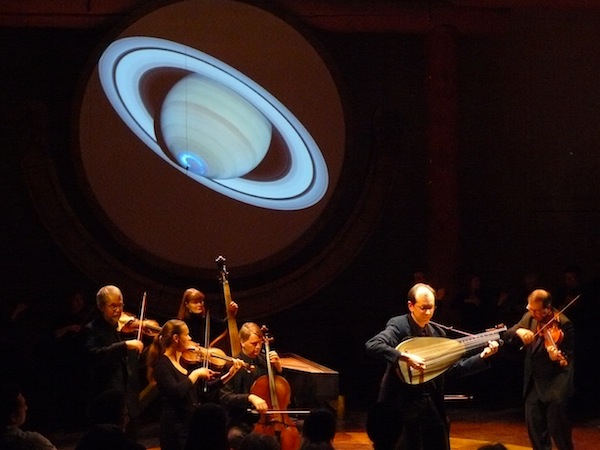 "It's breathtaking…The achievement here is enough to make the stars weep." – Sarah Liss, cbc.ca
Heavenly – that's a concise but accurate description of Tafelmusik Baroque Orchestra's newest release, The Galileo Project: Music of the Spheres – a fusion of the arts, science and culture in the 17th and 18th centuries captured in an imaginative DVD and CD soundtrack commemorating Galileo's first public demonstration of the telescope. It's not only heavenly in its subject matter, but it's pure heaven both visually and in an aural sense.   With the recent January launch of their very own recording label, Tafelmusik Media, the Toronto-based ensemble (touted by Gramophone as one of the world's top baroque orchestras) place themselves at the very cutting edge of what they describe as the "classical online recording revolution" of the 21st century.   The new label's first releases hit shelves on March 27, 2012, and include the debut of The Galileo Project.  It is Tafelmusik's ace card and playing it now assures their new label gets off to an impressive running start.
The Galileo Project was conceived in 2007 and brought  to fruition in 2009 with its premiere performance at The Banff Centre in Alberta.  Since that time, Tafelmusik has been touring the world with performances before awe-struck audiences.  Now, for the first time ever, listening audiences everywhere can experience this one-of-a-kind production through DVD and an accompanying studio-produced CD of the gorgeous baroque music featured in the concert.  The DVD/CD set was co-produced by Tafelmusik and The Banff Centre and is being distributed by Naxos USA through the Americas and by Naxos Global Logistics in the rest of the world, as well as through most digital retail outlets.
Read more »